Wilfrid Wood's new work for Sidmouth Wallspace is set to raise a smile for the holiday season!
Sidmouth School of Art's latest billboard artwork Holiday Makers of Sidmouth by Artist-Sculptor Wilfrid Wood will be exhibited at the Sidmouth Wall space public art gallery overlooking the Ham East carpark from 3rd August.
Mischievous and funny, this image brings both a characterful and observational perspective of holiday time in Sidmouth, a place where visitors come to enjoy themselves, the beach, the ice-creams and the kids. Sculpted in plasticine, the series of heads and figures, including Sidmouth's infamous "chip stealing" seagulls, reflect the artists' wit and charm as he takes a cheeky look at holiday making in Sidmouth.
As with the head portraits Wilfrid is known for - of everyday people and famous characters from all walks of life, here the viewer is drawn to look again, beyond the caricature, to see the personalities he has created. 
On being asked to create a work for Sidmouth, Wilfrid Wood said: "Initially I didn't know what on earth to do since I've never been to Sidmouth. After battling with an idea involving the local donkey sanctuary, I hit on these sculptures of classic English holiday-makers. I hope they raise a local satirical smirk."
Based in London, Wilfrid Wood is well-known for his satirical sculptures in papier mache, polymer clay or plasticine, which are commissioned and exhibited around the world.  Wilfrid trained in graphics before working in the 80's building latex heads for the satirical TV show, Spitting Image.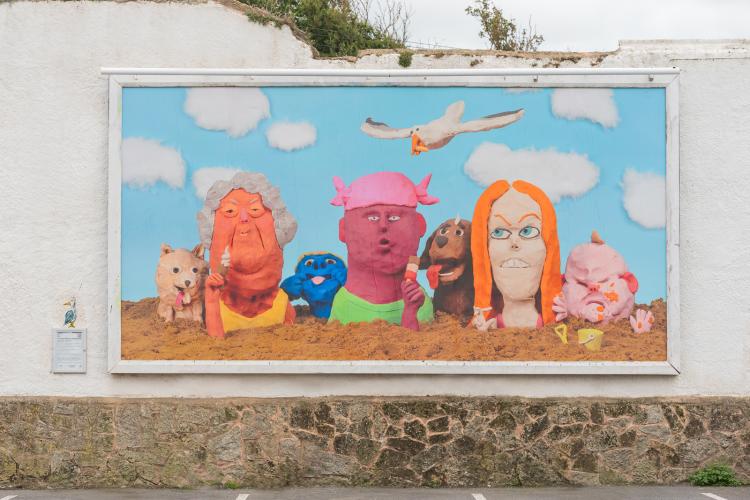 Image: http://www.sarahhallphotography.co.uk 
He will be joining Sidmouth School of Art in Sidmouth as part of their collaboration with South West Arts Summer School to lead plasticine head sculpture workshops, including one for 11-16 year olds, along with Portrait Artist and Illustrator, Natasha Hayball.  The workshops are part of an ongoing Celebrating Volunteers project part funded by Sid Valley Help.
Talking about the collaboration with Sidmouth School of Art, Lynsey Pickwell, South West Art shop owner and organiser of the Summer School, said: "It is really great to be working with  Sidmouth School of Art who share our commitment to developing creative talent and providing a supportive, small scale environment to help people connect through art and build confidence. 
"The whole programme provides an opportunity to have a great experience in which to do just that, to meet new people, try new techniques and feel able to experiment."
David Shrigley, Artist and Co-Founder of Sidmouth School of Art, added: "It's great to be part of the Summer School creating opportunities to work with diverse artists in parallel with bringing Wilfrid's work to Sidmouth.  It's exciting to collaborate with others to bring young and emerging talented artists like Natasha to Sidmouth alongside an established artist like Wilfrid, whose accessible work, which is both funny and perceptive and seems to resonate with people, across the globe."
The wallspace will be on display from 3rd August and the sculptures in the image will be on show at The Museum of Contemporary Art, Sidmouth School of Art's new telephone kiosk art space at the Market Square, Sidmouth from the 7th August.
The latest wallspace is part of a new project designed and delivered in partnership with Sidmouth School of Art and Sidmouth Coastal Community Hub through the Sidmouth Makes Art project. There are a range of new billboard artwork projects in the pipeline, watch this Wallspace!
Header image credit Arthur Gray