Sidmouth's iconic red phone boxes are now showing two temporary exhibitions to celebrate the coinciding festivals of Harvest, Samhain and All Hallows Eve. The phone boxes have been repurposed as micro museums and have been bringing joy to residents and visitors since their inception.
In the Museum of Antiquities is Witches Away! an exhibition of objects often associated with witches. The exhibition provides a fascinating insight into the human desire to ward off evil spirits and bring good fortune. It has been curated by Barbara Farquharson, former Professor of Anthropology at University College London, who is well known locally for her Branscombe Project over the last 30 years.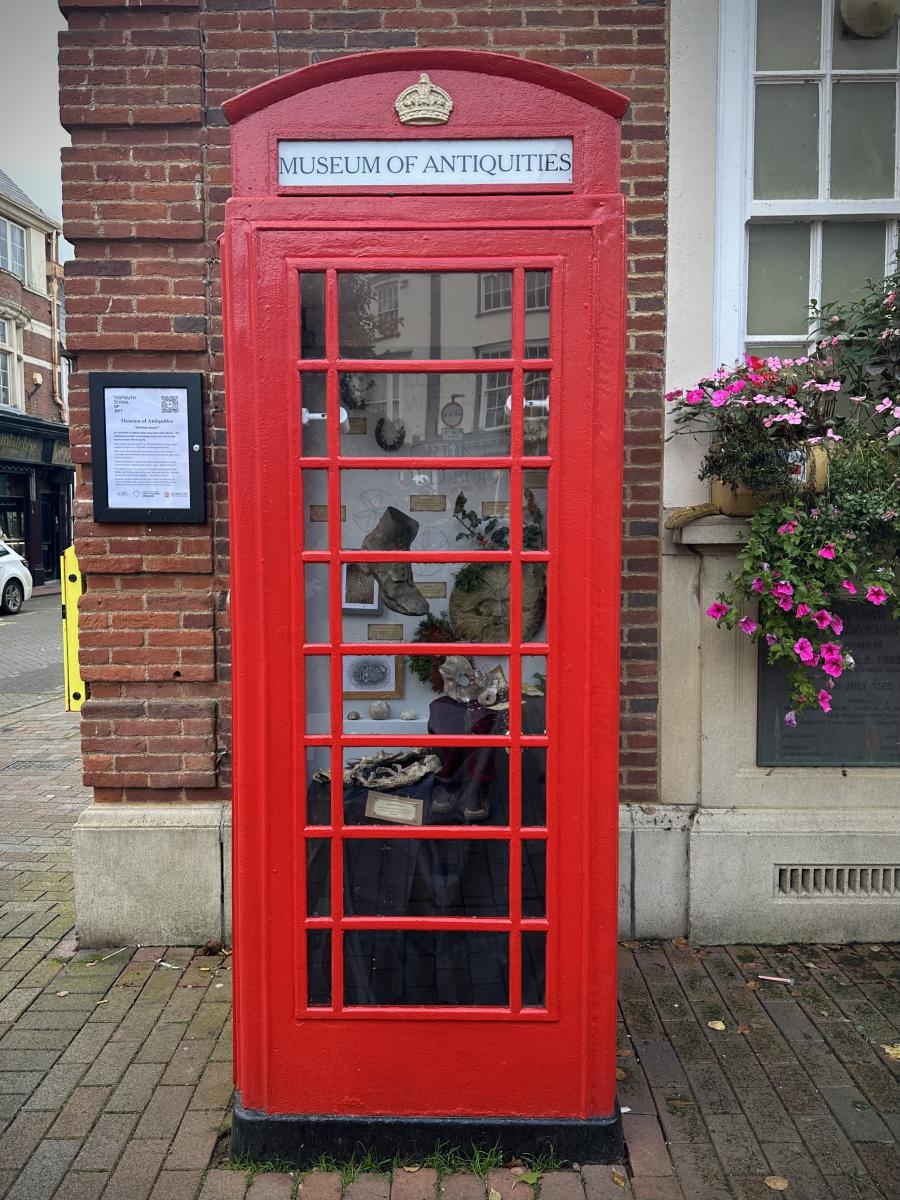 Amongst the artefacts are an old boot and a Green Person. Barbara explained the stories associated with them, saying: "Place an old shoe or a boot in the rafters, where witches or their animal familiars might be and if you're lucky, they'll fall into it!
"The Green Person, for example, is thought to be the spirit of the future… Part human, part animal, part plant and part tree. Perhaps we all need to be Green People!"
The other telephone box is the ying to this one's yang. The Museum of Contemporary Art is hosting Witches Present! an array of objects associated with white witchcraft or natural magic. Using the power of nature for good, healing, protecting and making peace.
Curated by Sidmouth School of Art, the objects feature many cultures, beliefs and rituals. They all have a common goal to create positive change, appease spirits, cure illness or injury, control the weather or harvest, divine the future, create good luck and promote wellbeing.
Louise Cole, Sidmouth School of Art's Director of Development, said: "The exhibitions are designed for all ages, to spark curiosity in the fascinating objects themselves and maybe, to question the legends of witchcraft to harm or hurt that have grown up through the ages. Stories which were and still are about persecution and blaming misfortune on those whose beliefs or knowledge was misunderstood or who challenge power, such as women, healers, heretics and midwives."