Sidmouth School of Art's latest billboard artwork A Sidmouth Map is currently being exhibited at the Sidmouth Wall Space public art gallery over looking the Ham East carpark.
The abstract artwork – a "map", presents Sidmouth's rich and developing art and cultural scene.  The colours and shapes with a complex web of interconnected lines creates a beautiful and intriguing image in its own right. The artwork is based on an original 12-layer screen print by East Devon based Artist Printmaker Emma Molony @emmamolonyprintmaker
At the start of 2022, Sidmouth School of Art commissioned artist printmaker Emma to explore the diversity of art, conservation and cultural organisations and spaces which make up some of Sidmouth's cultural life – to celebrate it and inspire future collaborations. Emma's original artwork was digitalised for display by Sam Eyre. Over 40 conversations fed into the community research with the information plotted and overlayed with each screen print layer to build a rich cultural community picture.
Using layers of tracing paper, not only art, but also the physical and human characteristics of Sidmouth were considered.  Emma was inspired by the maps of Mark Lombardi and visualisations of data by Edward Tufte. Separate prints pulled out isolated connections whilst the final work maps the constellation of activity and myriad connections. 
David Shrigley, Visual Artist and Co-Founder/Trustee Sidmouth School of Art, explained: "Having a map of the cultural connections in Sidmouth is a really valuable thing for us at Sidmouth School of Art.  I think Emma's artwork has been a great starting point and I hope that other people will find it equally intriguing."
Emma Molony, whose practice involves combining printmaking with interdisciplinary art forms, also works at Double Elephant Screenprint Studio, Exeter and has had a variety of residencies, added: "I think this is a project that will grow, the content will grow. Different artists and community groups will input into it and that feels like the start of something special."
Sidmouth Wall Space repurposes an unloved wall overlooking a car park in Sidmouth and has become a physical public outdoor gallery for everyone at the Ham carpark, where the work of different artists using a variety of mediums are presented.  Each billboard has a process behind it, working with artists and young people or local groups to build confidence, create an open access platform for public art and share skills.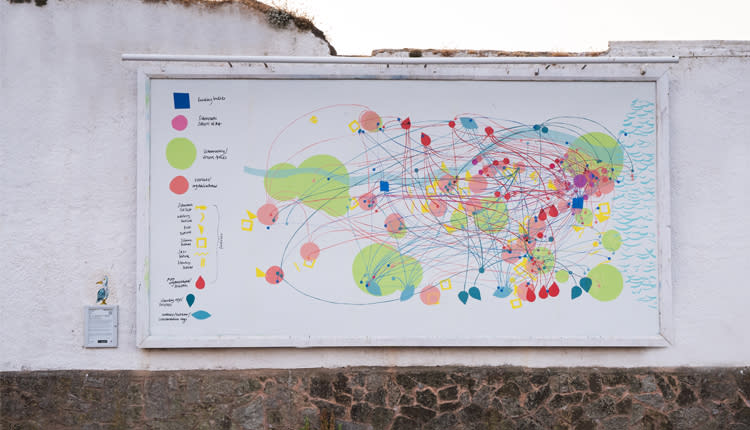 Digital Artist Sam Eyre is an artist (@same_year and Art & Design) and Digital Media practitioner at Coombeshead Academy.  In collaboration with Emma, he translated her screen print to digital format using a iPad and scanning in Emma's handwriting. Digitalising Emma's original screen print artwork for scaling up also helps to create a dynamic tool to develop understanding and inspire future collaborations and artworks. They said: "The process of deconstructing Emma's original screen print, rebuilding it and putting it back together, you can start to push things digitally and in lots of different ways, that's a really exciting prospect."
This latest wall space is part of a suite of new projects designed and delivered in partnership with Sidmouth School of Art and Sidmouth Coastal Community Hub through the Sidmouth Makes Art (SMArt) project.  Fine Art prints of this artwork will be available to buy in the coming weeks – follow Sidmouth School of Art on Facebook and Instagram @sidmouthschool_art for latest updates.
With the help of Sidmouth-based videographer Seb Fitzhenry, the purpose and development of the project was captured and is available to watch in a short film which can be accessed via SSA's website A Sidmouth Map | Sidmouth School Of Art (sidmouthart.org) More details about the project can also be found here Cultural Community Mapping | Sidmouth School Of Art (sidmouthart.org)
There are a range of new billboard artwork projects in the pipeline …Watch This Wallspace!
Images from Sarah Hall