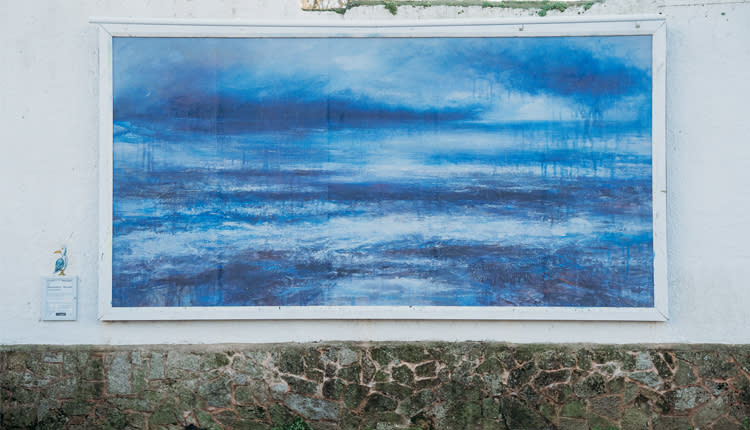 Image: Sarah Hall 
The latest piece of art to appear on Sidmouth Wallspace, a billboard to showcase the work of local artists is an abstract piece named Reminding Myself, which depicts a winter seascape.
The work, created by Jennifer Bennett, who teaches art at Sidmouth College, aims to capture the feelings you experience when looking out to sea in winter and has been painted in acrylic paints with mixed media and collage layers, including a poem and a map of Sidmouth itself.
Speaking to reporters, Jennifer said she was thrilled to have her work exhibited on the Sidmouth Wallspace. She said: "For me, the billboard is a public community gallery and its really exciting to be a part of it. I'm really excited to have a piece up there, this scale is amazing.
Image: Sarah Hall
"The painting was inspired by high tide when sometimes the beach can look quite wild, the waves are crashing upwards… I like the idea of trying to capture it with textures and paint and explore what the paint can do."
The Sidmouth Wallspace project is a collaboration between Sidmouth School of Art, the Coastal Community Hub and artist David Shrigley, supported by Arts Council England and Sidmouth Town Council. Previous exhibits have featured art from students at Sidmouth College, photo montages and a piece by street artist Steve McCracken. The Wallscape can be found at the Ham East car park.