Sidmouth & East Devon Walking are excited to feature the East Devon Way once again as a highlight of their week-long event which will take place from 16-22 September 2023.
It is a decade since the festival first launched, and it has retained its full programme of 24 daily walks which include the opportunity of walking the entire 40-mile length of the East Devon Way over 5 days. All walks are free of charge and led by experienced volunteer guides, but must be booked in advance. The only charge is £10 per day for the East Devon Way to cover the cost of transport from Sidmouth to the start and back from the finish each day.
The East Devon Way is a stunning walking trail and offers a remarkable journey through East Devon's picturesque landscape, showcasing its natural beauty and rich heritage off the beaten track. The well-established route spans 40 miles, meandering through enchanting woodlands, heathlands, rolling hills and valleys, and coastal paths. With diverse terrain and tranquil surroundings, it's an ideal escape from the hustle and bustle of daily life.
In addition to the East Devon Way, the festival offers a range of 19 guided walks for all interests and fitness levels, from leisurely strolls to challenging hikes, and special interest walks led by expert guides.
Each walk is thoughtfully curated to provide a unique experience that connects participants with the history and beauty of East Devon. Discover the area's history, wildlife, and natural wonders as you traverse the valleys of the Otter, Sid and Axe rivers, and witness the dramatic cliffs and beaches of the Jurassic Coast.
Norma Self and Ted Swan are founder-members of the Walking Festival and still part of the organising team. "We're delighted to showcase the East Devon Way at the Sidmouth & East Devon Walking Festival. This trail offers a remarkable opportunity to discover the hidden gems of East Devon while enjoying the physical and mental benefits of walking in nature." said Self. Swan added, "Whether you're an experienced hiker or a novice walker, this festival promises an unforgettable experience."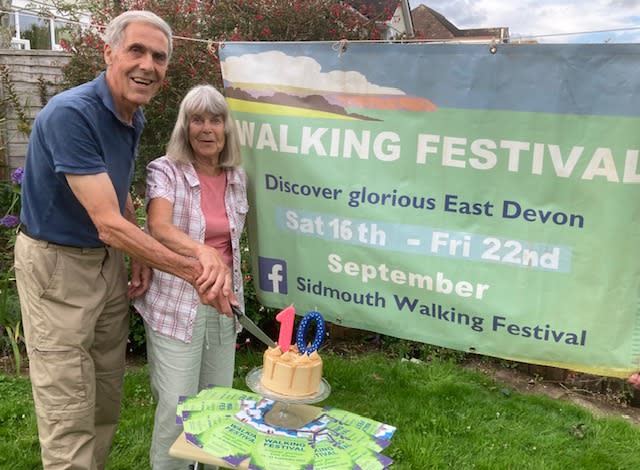 The Sidmouth & East Devon Walking Festival will take place from 16-22 September 2023, offering a week-long celebration of walking, exploration, and community. Register at Visit Sidmouth to secure your place in this captivating journey through East Devon's landscapes.