Woolacombe has long been one of the best loved family friendly resorts in Devon. The beach regularly wins best beach awards – it's a great spot for watersports, sun bathing, building sandcastles, swimming and just about everything else you can expect from a beach holiday.
If you're planning a holiday or day trip to Woolacombe this summer, here's our guide to everything you can expect here.
Visiting the beaches
Yes, you've read that right, beaches! Woolacombe might just seem like one long beach, but there are actually lots of beaches to explore from the town.
Woolacombe Beach – this is the main town beach, it has three miles of golden sand and is monitored by lifeguards during peak times, making it a popular beach for families. It is safe to swim and has plenty of room for spreading out and enjoying the sand. It is also a hugely popular beach with surfers and swimmers and is instantly recognisable thanks to the beach huts that line the front.
As well as Woolacombe, you'll also find…
Barricane Beach – You'll find this one between the various little coves along the esplanade and is hugely popular because of the curries you can buy there. It's another that is popular with surfers and visitors and is incredibly picturesque.
Combesgate Beach – found between Grunta and Barricane, this is a quieter option for visitors. Just follow the steps down until the beach, it's a good spot for anyone chasing the sun.
Grunta Beach – This tiny cove got its name supposedly after a ship full of pigs ran aground. The story goes that the locals were kept awake at night by the grunts of the pigs as they escape
Harris, Gin and Shellsborough – it might sound like the name of a fancy law firm, but this is in fact a beach. At low tide, you'll find lots of little creatures scurrying around the rockpools.
Middle Beach – a little quieter than the main beach, you'll find this one between Woolacombe and Putsborough, simply take a walk between the sand dunes to get there.
Putsborough Sands – located at the very end of Woolacombe's main beach is Putsborough Sands, it has a mix of cliffs, rock pools and sandy areas and is a popular spot for those that love a coastal walk. It's also a great spot for surfers and watersports, which provides endless entertainment.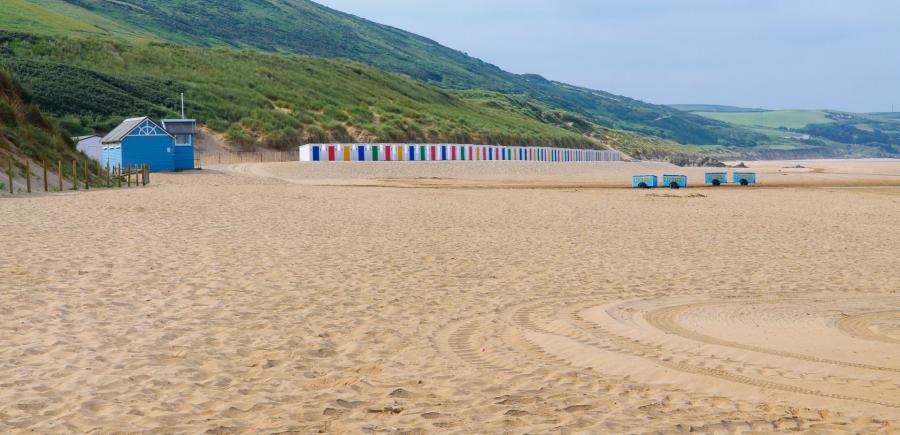 Places to stay
As it is such a popular place to visit, you'll find a host of accommodation options across Woolacombe, many of which are right on the seafront. From hotels to holiday parks to cottages and camp sites, there is something to suit everyone's budget.
Things to do
Though the beaches are a huge draw, there are plenty of other things to do around Woolacombe.
As well as attractions, there are also a series of walks that will take you through the North Devon Area of Outstanding Natural Beauty. The South West Coast Path goes through Woolacombe and is one of the most scenic routes in the region.
Other popular routes through the area include walking through the Sandy Dunes and around Woolacombe Downs where you can see some incredible sights on a clear day.
Of course, as we've mentioned that Woolacombe is a good spot for surfing, you'll find plenty of places offering watersport tuition and equipment hire. The town even has its own surf centre! As well as surfing, North Devon is famous for golf – it is home to the oldest course in England and in Woolacombe, you'll find a 33 hole course with amazing sea views.
Want to find out more about Woolacombe?