Are you planning to visit Devon for February half term? Looking for somewhere to stay where you can take advantage of family friendly facilities, plenty to keep the kids entertained and a choice of accommodation options so you can pick somewhere that suits your budget? Then why not book a holiday park? With options all over Devon, holiday parks are a great choice for families or groups on the hunt for affordable, self-catering accommodation with everything they need on the doorstep.
Many of Devon's holiday parks are also dog friendly, allowing the whole family to get away! Whether you want to stay near the coast, in the countryside or close to one of the region's cities, you'll find plenty of options here.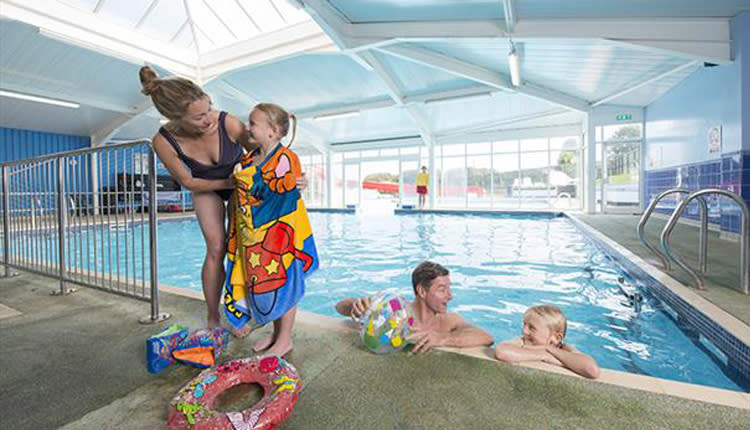 Image: South Bay Holiday Park
For a park near the sea, take a look at South Bay Holiday Park which sits above the bustling harbour of Brixham. Full of maritime history, this park is perfect for families, with indoor and outdoor pools, a clubhouse and a range of activities. Plus, being located within the English Riviera, you'll find lots of family friendly attractions and lots of options for day trips.
Nearby in Dawlish is Cofton Holidays. Located within 80 acres of countryside, near a lovely sandy beach and with a variety of accommodation options, this is a good option for families. Cofton Holidays features swimming pools, amusements and even a fishing lake! This is one of the many dog friendly parks in the county and with an on site shop and eatery, stocked with locally sourced food and drink, you can really enjoy a taste of Devon. Another option in the English Riviera is Welcome Family Holiday Park, an independent, family run park that has four pools to choose from and daily activities for kids of all ages. Every night there is family friendly activities and with both the beach and the Nature Reserve nearby, you'll never be bored!
Further east near the iconic Jurassic Coast, you'll find a host of lovely holiday parks, including Ladram Bay which has its own private beach and a complex full of activities. Among the facilities that are available are climbing walls, golf courses and swimming pools as well as instructor-led activities so you can learn something new!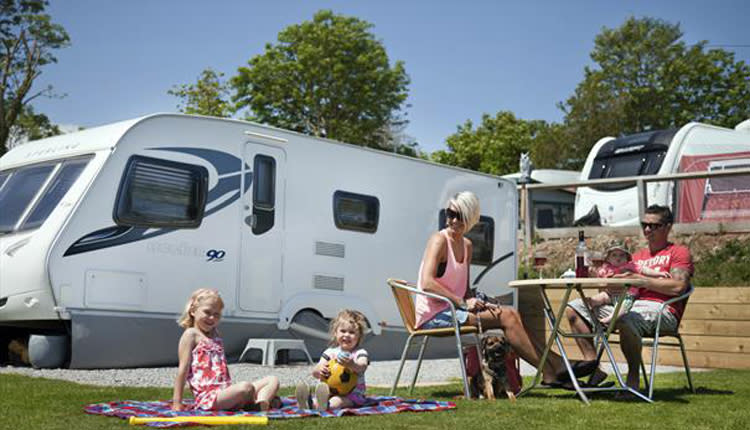 Image: Ladram Bay
East Devon is a great choice for family holidays. As well as easy access to the coast, you also have acres of open space to explore including the East Devon Way and the East Devon Area of Outstanding Natural Beauty. In the countryside of East Devon is Andrewshayes in Axminster. Dogs are welcome to join you during your stay and you have access to a swimming pool, onsite shop and there is WiFi available, so you can stay connected and keep up to date with your favourite streaming services.
With a holiday park break you don't need to be too far away from the main city of Exeter either. Castle Brake Holiday Park is just outside the city and gives you the impression that you're somewhere much more rural and tranquil than you really are. The site is home to an accessible holiday home which is designed with wheelchair users in mind and guests are welcome to use the facilities at Ladram Bay during their stay.
If it is a coastal holiday you're after, you should look at what is on offer in North Devon where you'll find miles of beautiful, golden coasts, many of which fall within the North Devon Area of Outstanding Natural Beauty and often win prizes for being Britain's best beaches. Combe Martin Beach Holiday Park is a quiet park where it is easy to relax. The kids are free to roam around and explore and dogs are welcome to join you. As this is in North Devon, which is famous for its beaches, you won't be surprised to learn that the park has their own beach, each is easy to walk to, wherever you are in the park. Plus, you're just a stone's throw from the village of Combe Martin and the nearby attractions, making it ideal for a family holiday.
Another big draw to North Devon is the watersports community. The region forms the UK's first surf reserve and has a host of beaches that provide the perfect conditions for a range of sports, including the beach at Croyde Bay. Croyde Bay Holiday Resort is nestled behind the sand dunes on the beach, allowing you easy access to the seafront. The resort features a variety of accommodation options including the village's only hotel, so you can easily pick somewhere that suits you – whichever option you choose, you can enjoy full access to the facilities, as well as the beach and be within easy reach of the attractions in North Devon.
Croyde isn't the only place with an excellent surfing beach, so is Woolacombe, which is also known for having Britain's best beach. Golden Coast is an action packed park offering something to everyone. You'll find a selection of modern self-catering options alongside a host of activities including pottery painting, film screenings and more. Much of what is on offer is free for guests and can be used whatever the weather, so even if you're visiting during the quieter months or you get caught in a rain storm, you can still have fun, all without leaving the park!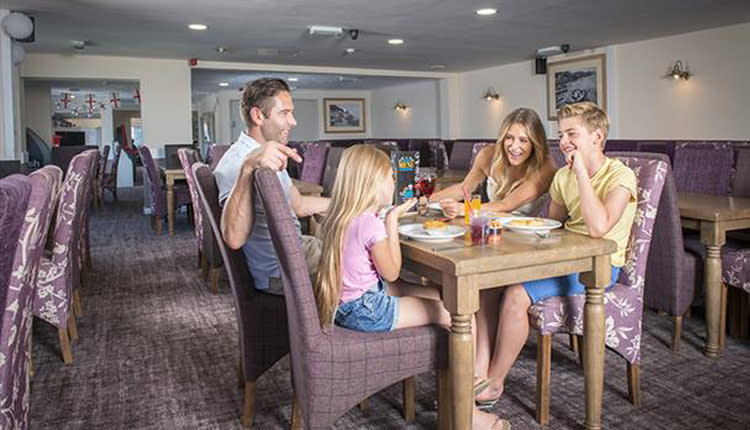 Image: Sandaway Beach Holiday Park
If you are planning a holiday to North Devon so you can have a go at watersports, take a look at the accommodation on offer at Sandaway Beach Holiday Park. Located near Ilfracombe and Combe Martin, the park has a partnership with Surfside Kayak Hire, allowing for hassle free kayak hire. This park has its own private beach, incredible sea views and gives plenty of opportunity to explore nearby Exmoor.
A good base for staying in North Devon is the town of Bideford, where you can enjoy all the amenities of a larger town, while also being close to the sea and the countryside. Bideford Bay, between Bideford and Clovelly is a great option for those that want to explore and discover new adventures. On site, you have a range of activities suitable for the whole family, while also being close to all the popular tourist spots.
Have you found a holiday park that suits you? There are plenty more to choose from here.