Dartmoor is a wonderful location for a short break or long weekend, with lots of picturesque towns and villages, beautiful scenery and a plethora of walking and cycling trails. To be in the centre of the action, why not stay at Mill End Hotel?
The Mill End Hotel is located right in the heart of Dartmoor National Park. The hotel has a country-house charm, luxury feel and 2 AA Rosette fine dining restaurant. This country retreat comfort coupled with a walker's dream location makes for a unique weekend getaway made of equal parts panoramic views and afternoon scones. It is also a dog-friendly hotel, with a select number of luxury rooms available for guests to book with their four-legged friends for a small additional fee.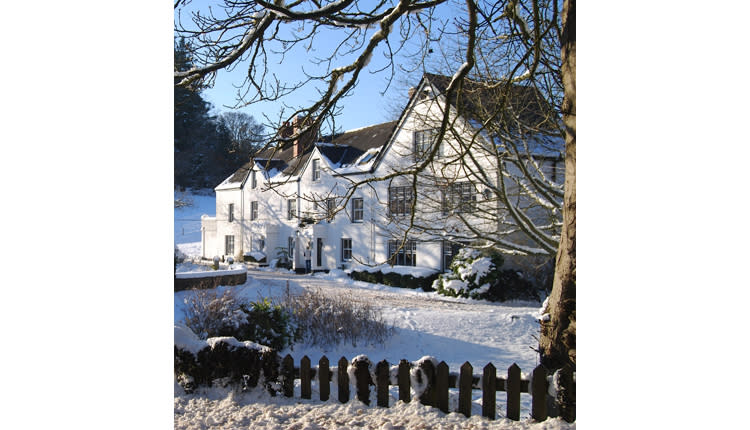 Breakfast
Your day on Dartmoor begins with a two-course breakfast where you can dine continental at the breakfast buffet before placing a cooked breakfast order. The newly-expanded cooked-to-order menu includes pancakes, smoked salmon and a delectable full English.
It is at this point where one might ask the knowledgeable staff about their walking recommendations and receive Mill End's customised maps which detail the various river-side and Chagford-bound trails that can be taken right from the hotel's front door.
Walking Dartmoor
Next, you get ready and take to the trails. Wanting a medium difficultly and immediately available gander through the moors- you opt for the characterful Teign Riverwalk from Mill End to the Fingle Bridge.
It's 45 minutes each way and filled with Instagrammable river, woodland and heritage-site views.
The return journey then steers you around the other side of the river before dropping you just 20 yards from Mill End's front garden and outdoor tea tables.
Dog owners then enter through the Hotel's side entrance to the boot room where they can easily clean up muddy paws and use complimentary doggy towels. There are also some treats for people and pups tucked away behind the sink for an after-walk sweet.
 Visiting world-famous attractions
Dartmoor isn't all walks and tranquillity, there are plenty to keep the more adventurous entertained too. There are hugely popular attractions across the National Park, offering everything from rare animals to rock climbing. Many of them are within half an hour from the hotel, so you can easily plan a day full of activities without having to waste time travelling.
Afternoon Tea
Following your morning of activity is one of the many stars of Mill End's culinary show- The Afternoon Tea. Afternoon Tea is an institution of Devon cuisine and it also marks a fantastic way to start drinking champagne or prosecco in the early afternoon. The high tea at Mill End comes with finger sandwiches, fresh baked goods, scones, individual quiches and other side plates. For £25 you can fill up on these cocktail sized delights and for a small additional fee, you can add prosecco or champagne to your meal.
 Freshen Up
After your Afternoon Tea, you head up to one of the 21 individually styled rooms (which are customised from room to room in every detail down to the scent) and sit down, nap or begin to get ready for the dinner service which begins at 6pm.
 Dinner
The Dinner Service begins with an amuse bouche, a drink of your choice and a quiet sit by the fireplace in one of the hotel lounges. You are then walked to your table where you are presented with a menu of modernised British classics, where locally sourced Dartmoor produce centres every plate.
You'll have the option of locally reared meat, seasonal vegetables from local farms and fish caught from Devon and Cornish coastlines. You'll also have the choice of 2 or 3 courses- always with the option to increase to three if you find yourself still fancying something sweet after your mains.
You are then invited to continue drinking in the lounge where you can enjoy some cocktails of your choice before you feel yourself ready to head back to your luxury room.
Visit Mill End here to book online or call now via 01647 432 282 to enquire!
A Dartmoor hotel on the banks of Devon's majestic River Teign, The Mill End Hotel and Restaurant is your perfect Country House hideaway. Mill End is idyllically located walking distance from a number of stunning forest paths and dog friendly activities. Here, you can immerse yourself in the…