It's great being able to book a breakaway, especially if you've waited a while to add that 'out of office' reply on your emails and switch off for some much-needed time away. But what do you do while you're away? Some like to plan absolutely nothing and spend their time relaxing, reading a book or two, having a lie-in, and maybe even pushing to a morning stroll. If that sounds like you, we have you covered.  Others like to plan everything and do as much as they can while visiting a destination. Whatever you want from your break, here is our guide to ensure you make the most or as little of your stay as you wish.
On arrival at Dittisham Hideaway, make use of our electric wheelbarrows to transport your luggage to your home for the next few days, unpack those bags and crack open the bottle of wine we have left you chilling in the fridge. Perhaps you can munch on some crisps from your welcome hamper too whilst browsing the many places to dine in the area.
Our top suggestion for your first night with us would be one of our local inns. We recommend you take the short 5 minute drive into Dittisham, park at the Level carpark and take a walk around, you'll find stunning views and great service. Head back to your Hideaway for your first night's sleep and you won't be disappointed in your bed for the night, with the very best Egyptian cotton linen, and locally sourced 100% British wool duvets from Devon Duvet, you are bound to have a great night's rest.
Start your first full day at The Hideaway with a much-needed lie-in and listen to the birds hooting in the trees around you, you may even hear the running water of the nearby stream too. These are sounds you won't hear in your day-to-day bustling life. Cup of tea, bowl of oats and a round of toast to start the day, all items can be found in your welcome hamper. Why not take a seat outdoors on your private terrace, and grab a blanket if it's a little chilly. What a way to start the day!
Why not warm up the hot tub? Using the bag of complimentary logs we have left you, use these to stoke the wood-fired burners, be sure not to stir, as this will take longer to heat and keep the lid on. As these do not run on electricity, they do need a little attention to get it hot. A short stroll around the hideaway is next on our recommendations of things to do here, following the 15-minute circular trail around the Hideaway, you will walk past our Treehouses, Vintage Airstream and Shepherds' Lodges. Along the way, you will come across our Wall of Art painted by Mark Bell, a local artist, who has cleverly put together 'Dancing to the sounds of Nature'. At the top of the Hideaway are our apple trees and vegetable garden when in season, Boules pitch and the best view in the house with a bench to sit on overlooking beyond the River Dart towards Paignton.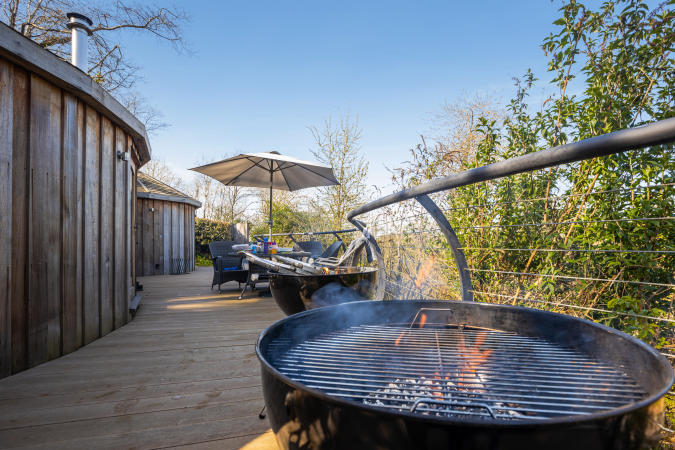 Surely it's now lunchtime? We suggest a short drive up to one of our local garden centres for a relaxed laid-back snack. While you are out and about, pop into Fast Rabbit Gardens, it's just like a secret garden with seasonal plants and flowers around every corner set on 43 acres, with plenty of benches situated around the gardens to take in the gorgeous colours all year round. On your drive back pop into one of the local supermarkets or farm shops in nearby Totnes where you can find great local produce for a BBQ, don't forget to grab some charcoal! Using your BBQ on your terrace, rustle up your dinner and dine al fresco or perhaps you prefer to be indoors in the comforts of your accommodation.
Wakey, wakey rise and shine, open those curtains or take a look up to your skylight and enjoy whatever the UK weather has brought for your second day. Don't fancy cooking this morning? Pop down into Dartmouth. Park up alongside the river If you are lucky or alternatively, there are plenty of car parks nearby. On the riverside, you will come across the former GWR ticket office, offering outstanding estuary views in a truly classic bistro restaurant. 
While you're in Dartmouth, the historical Naval Town,  take a stroll around the local area, an easy circular walk around Dartmouth takes you past some of the town's top history spots and allows you to bask in the atmosphere of the heritage of Dartmouth. A visit to Dartmouth Castle wouldn't go a miss either, it's open daily in the season while open weekends off-peak. Grab some seaside fish and chips for lunch, wherever you grab your dinner, you can be sure of freshly caught, local and with one of the best views around, just watch out for our flying rubbish bins – the seagulls! 
Back to the Hideaway to wind down for the evening, you're likely stuffed from all the food you have eaten today, so maybe a light salad, some toast, or a liquid dinner is on the cards. Grab a book to read, pop on your favourite programme or sign in to Netflix, whatever you choose to do, just relax.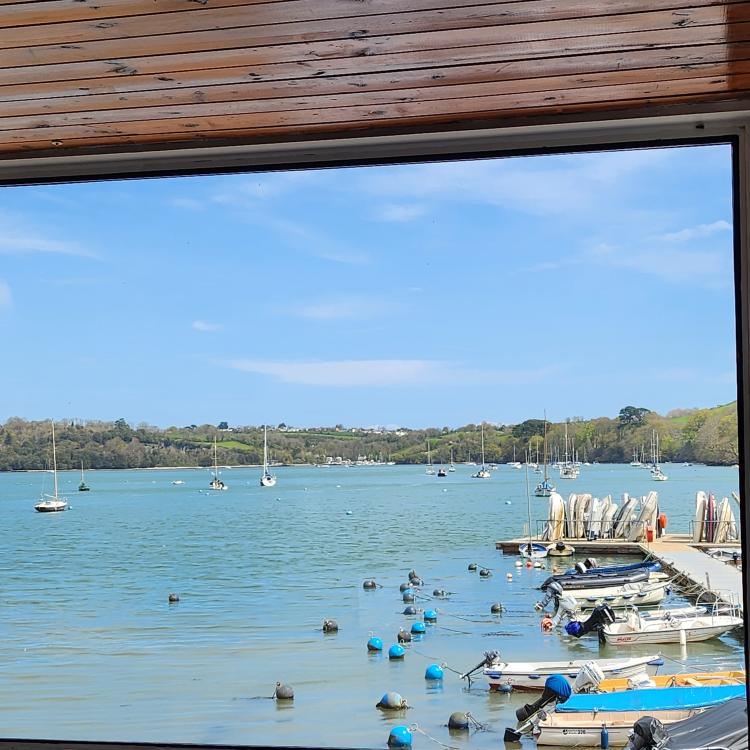 Before leaving Dittisham for your onward journey, why don't you make use of your complimentary ferry voucher we have provided for you, park down at the Ham Car Park just past the church in Dittisham, walk along the river's edge (tidal permitting) towards the inn and you will see the pontoon, at the start of the pontoon you will see a handbell, give this a ring and Dave will pop along on the little wooden passenger boat. Dave with his wealth of knowledge and friendly demeanour will come and collect you and take you across the River Dart to Greenway, here you can grab an ice cream and watch the world go by on the water or take a short walk up to Greenway House,  the holiday home of the famous Agatha Christie, for a nose around the National Trust treasure.
We hope you have found our guide useful, find more suggestions of things to do while staying with us on our website. .
Back-to-nature relaxation and woodland magic. Birds tweeting in the trees. The babbling of a glistening stream. Surrounded by wildlife, butterflies, apple trees, and lush greenery, this enchanting woodland destination is the perfect setting for your next quiet getaway. Nestled in this stunning…