As the UK's first surf reserve, home to Britain's best beach and one of the most picturesque places in the UK, North Devon should be on your list of must visit locations. Today we're shining a spotlight on this part of the county and highlighting some of the region's hidden gems.
We've already mentioned the fact that North Devon is famous for its surfing provision, but did you know it is also hugely significant among golfers? The oldest golf course in England can be found Northam and has served professionals, novices and everyone in between since the 1860s. It is also a haven for history buffs as much of the coastline was used for practice operations during WWII – convinced to visit? Let's find you somewhere to stay!
One way to enjoy the region's beaches is to stay right on the seafront, which you can do at the Saunton Sands Hotel. This premier hotel is one of the Brend Collection's flagship destinations and is perhaps one of the best places to stay to enjoy North Devon. The hotel features top-of-the-range facilities including an exclusive spa, swimming pools, surfing lessons and just about everything else you can think of. There is even a dedicated childcare facility, so the parents can spend some time relaxing. Saunton Sands is one of the prettiest of the region's beaches, it's a top surfing spot along with neighbouring Croyde Bay and gives you easy access to Braunton Burrows – one of the largest sand dune systems in the UK.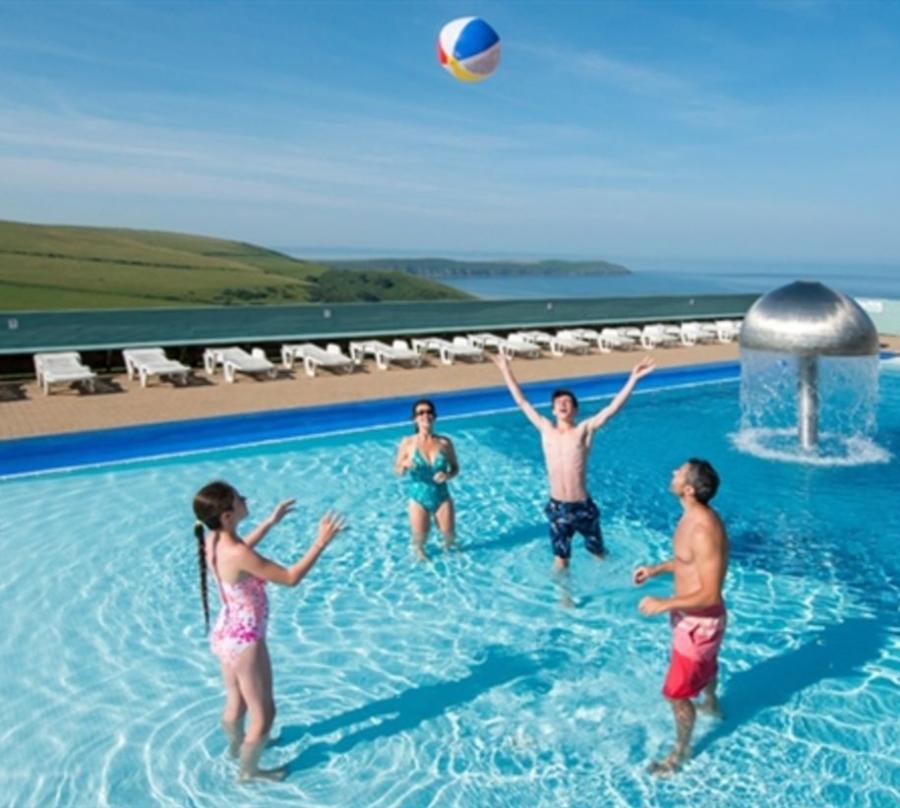 Image: Woolacombe Bay Holiday Park
Speaking of beaches, Woolacombe is often touted as being Britain's best beach, so make sure you get to experience it by staying nearby. Woolacombe Bay Holiday Park is right on the doorstep and features a selection of modern self-catering accommodation including caravans, apartments and lodges, all of which are equipped with everything you need for the perfect break. The beach is located right next to the park and there are facilities for the whole family to enjoy.
If you want a little more privacy, check out Catboat Cottage, which is located in Appledore, a cute, pastel village with a fascinating maritime history. The cottage is around 200 years old and has been lovingly restored and retains many of its original features, many of the beams are thought to have come from the timbers of old ships. It's a real home from home and gives you the chance to explore North Devon at your leisure. Appledore is close to the town of Instow and Westward Ho! with its surfing beaches is just a short journey away.
There's more to the region than just beaches, though the majority of the coastline does fall within the North Devon Area of Outstanding Natural Beauty. For those of you who want something more rural or want the best of both worlds, check out the bed and breakfast offerings from Devon Farms and Country Stays. They have a portfolio of properties located on farms, surrounded by lovely countryside and all with the chance to enjoy a real farmhouse breakfast.
It isn't all golfing and surfing, there are loads of things to do in North Devon. There are a host of museums focussing on the region's maritime and military history, walks around the Exmoor National Park inspired by the romantic poets and authors that once called the region home and a host of family-friendly attractions.
If you are travelling with the family, check out the Milky Way Adventure Park. This all weather attraction provides plenty for the whole family to enjoy – don't forget it has also won a TripAdvisor Traveller's Choice Award five years in a row! With rides, activities, workshops and seasonal events, you'll find plenty to do here. For those of you who love the idea of rides, the Big Sheep Farm and Theme Park have Devon's largest family roller coaster, the Rampage. It's also home to the world famous Sheep Race and daily entertainment that will suit everyone!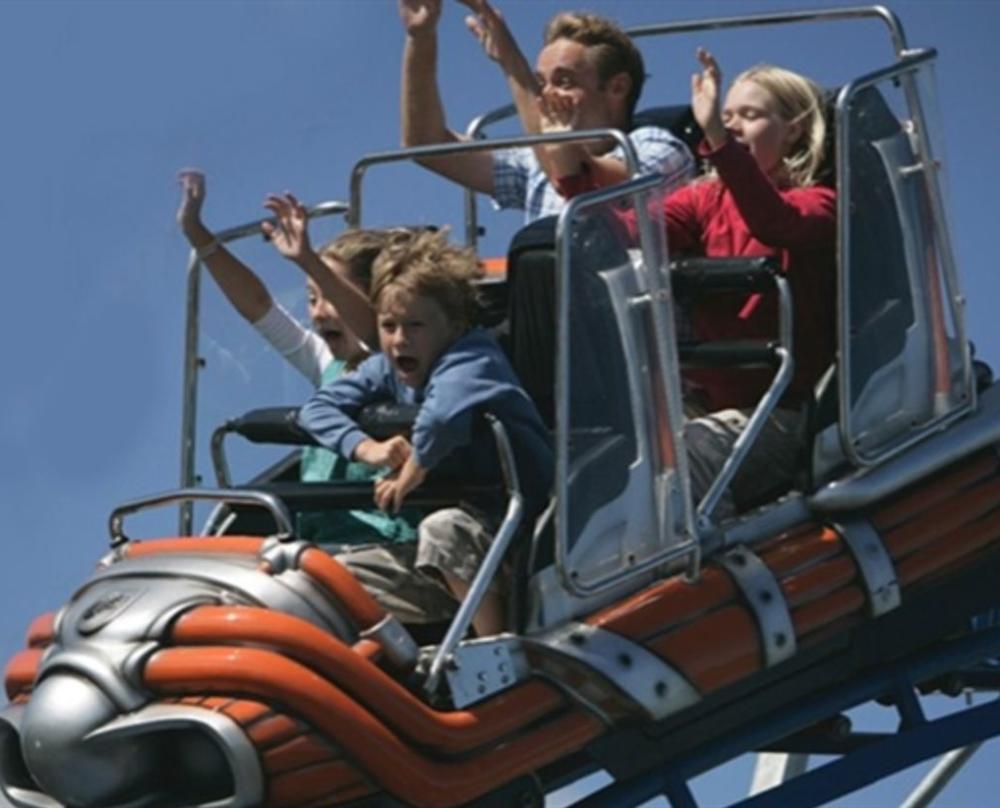 Image: Milky Way
The history buffs will find plenty to delight them, including the historic village of Clovelly. Once owned by the crown, Clovelly is a tourist attraction in its own right. It continues to be under private ownership and is vehicle free (though there is a Landover that can ferry you about if you have limited mobility). From the thatched cottages of the village to the historic harbour, the town's donkeys, museums and the 400 year old pub, you can easily spend a day exploring here.
Another good spot for the history fans is Hartland Abbey and Gardens. Set in the dramatic village of Hartland, where you can see incredible views of the coast, Hartland Abbey is a popular film location and once you've visited, it won't be a surprise why so many people want to immortalise it on film. Built in the 12th century and spending time as a family home, Hartland Abbey is truly fascinating and takes you on a whirlwind through the ages via its beautiful interiors and landscaped gardens.  During the spring, they often host walking trails around the grounds where you can enjoy the spring flowers as they start to bloom and really get into the spirit of a new season.
North Devon is also a haven for foodies, particularly around the Ilfracombe area which is fast becoming a favourite of those who want to sample the local delights. Much like the rest of Devon, North Devon has a stellar natural larder and is home to the famous ruby red cattle. You can find a host of fresh seafood and fish straight from the coast at restaurants and hotels around the region as well as at the regular food festivals. Clovelly Lobster is often a focal point of these events, alongside gins and wines that are created around the Exmoor National Park. We always recommend checking out our what's on to find out when the next food festival is coming so you can enjoy a real taste of Devon, but we also think visiting the regular farmers' markets is a good way of picking up some local fare. Barnstaple's historic pannier market has food and drink stalls throughout the week, as do the markets in Bideford and Torrington.
If you're looking for some tasty refreshments, The Seasons Brasserie at the Park Hotel in Barnstaple offers 4 star dining opposite the town's beautiful park. It's a contemporary and fabulous place to enjoy fine food and drink made with locally sourced, fresh ingredients. If you visit on a Sunday, make sure to book in for the Carvery – it's truly special!
For refreshments next to the beach, Westward Ho!'s Waterfront Inn is a good choice. They serve food all day and have a beer garden so you can enjoy the sunshine and being right next to Westward Ho!'s beach, you don't have too far to go for a bite to eat. The region's only seafront bar and bistro is the Pier House. The inn sits on the edge of a cliff overlooking Bideford Bay where you can have unrestricted views across to Lundy Island. The varied menus give you plenty to choose from, so even the fussiest of eaters will find something they like here.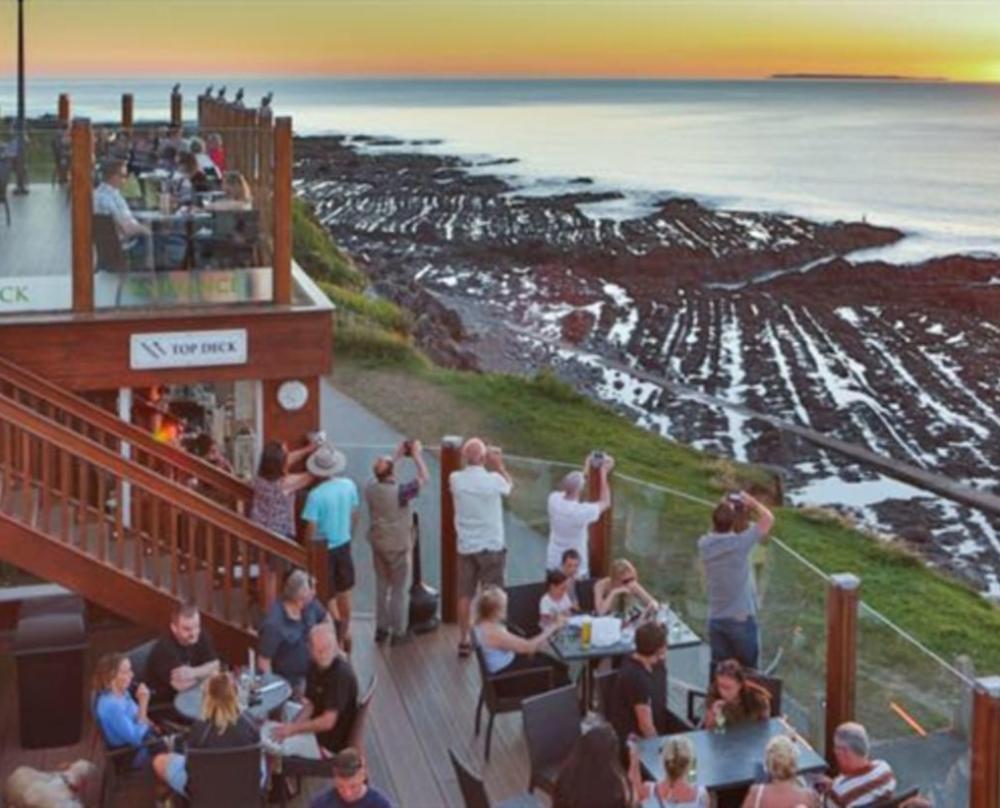 Image: Pier House
Interested to find out more about North Devon? Click here!
Saunton Sands is a flagship of Brend Hotels. As a family run hotel for decades, we know how to…
Family Friendly Inn located in the heart of Westward Ho! Open plan bar with games room, beer gardens…
Where the beach ends and the cliff begins is Westward Ho! 's only seafront bar and bistro…
Choose between fine dining in their Seasons Brasserie restaurant, more relaxed dining in their…
A day out at Hartland Abbey, a stately home and popular film location in a stunning valley a mile…
Clovelly, North Devon.  Welcome to a different world! The picturesque, ancient, fishing village…
Don't miss out on this multi award winning, all-weather day out for the whole family. The…
Our spacious 200-year-old fisherman's cottage has been lovingly restored, retaining many…
Woolacombe Bay Holiday Park is a premium seaside Park with the beach on its doorstep…