Between the famous coast and moorland of Devon lies Haldon Forest Park. The rolling green expanse of trees can be seen for miles around, tumbling across the magnificent Haldon Hills that rise above the surrounding landscape.
There is something for every interest and fitness level at Haldon Forest Park. Choose from walking trails, off road cycling trails, running routes, orienteering courses, Nordic walking, or Go Ape treetop ropes. For visitors with limited mobility, we offer off-road mobility scooters for hire to make sure that forest fun is never off limits.
Winter may be on the way, but that's no reason to stick to indoor activities under fluorescent lights. For a fresh air fix and feel good factor, we've put together our top five reasons why Haldon Forest Park is an unmissable stop on your winter break in Devon.
Immerse yourself in nature: surrounded by towering trees, diverse wildlife, and the sounds of birds, it's hard not to feel rejuvenated in the forest. No effort is required to feel at one with nature. Simply slow your steps and let your senses come alive to the sights, sounds, and scents. Haldon Forest Park is home to protected habitats and wildlife. The frosty and misty winter months are ideal for spotting resident woodland birds and wild deer moving through the forest landscape.
Dog friendly: dogs are welcome to explore the forest off-lead all year round. There are so many sights and sounds to explore, they will sleep well on the way home! The dog-friendly Ridge Cafe welcomes dogs on leads both inside and outside while you refuel after your adventure. There is free doggy drinking water around the main visitor area. We just ask your four-legged family members to follow our simple dog code to make sure everyone has a great time and leaves with a waggy tail.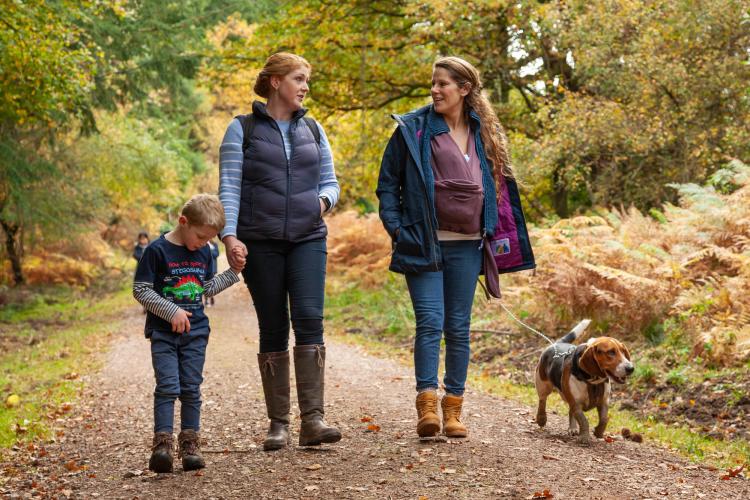 Holiday like a local: without the bustle of summer crowds, enjoy the forest at a slower pace. Enjoy a warming walk or an exhilarating bike ride on quieter trails. Take your pick from the array of picnic benches around the forest or snuggle up by the wood burner at The Ridge Cafe with something delicious from the autumn menu.
Capture the golden hour: later sunrise and earlier sunset mean incredible golden hour photography is accessible to all. Grab your camera or smartphone and head into the forest while the sun is on the horizon to capture breathtaking colours and moods. We recommend the Discovery Trail for unbeatable views across Exeter and towards Dartmoor.
Embrace the weather: rain never stops play at Haldon Forest Park when the frosty air gives way to mist and rain. Bring your wellies to make sure no hour of your holiday is wasted and enjoy the forest at its quietest. Our all-weather trails are perfect for winter walking and cycling and there's no better excuse to treat yourself to a hot chocolate after a wet and windy expedition.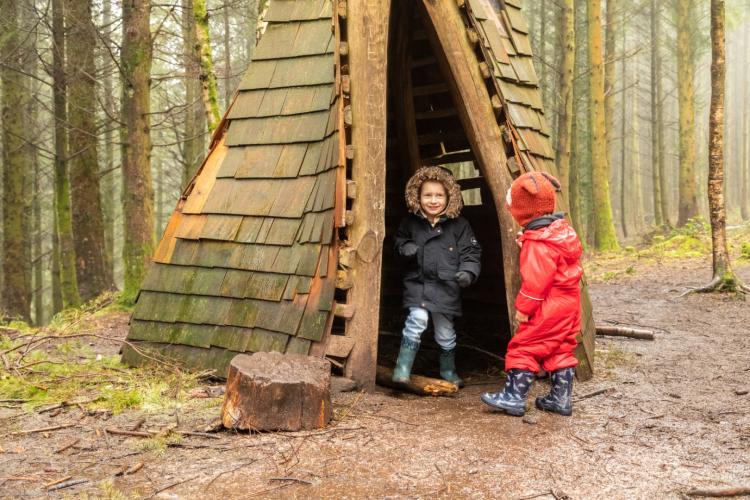 Check out Haldon Forest Park on your winter break in Devon.
If you run out of time to visit the forest during your holiday, why not stop for lunch and a leg stretch on the way home? Haldon Forest Park is the most scenic refreshment spot along the A38 and only 2 minutes' drive from the Haldon exit – simply follow the brown signs.
Whether you want a gentle stroll or an exhilarating mountain biking experience, there's something for everyone at Haldon Forest Park. Open 364 days of the year, there is something for every interest to connect you with the great outdoors.   If you're looking to entertain the family…