It won't be long until Valentine's Day is upon us, so why not treat your loved one with a little slice of Devon this Valentine's Day? Whether you are on a budget or splashing out, you'll find plenty of ways to reignite the romance with incredible views and luxury accommodation in Devon.
Here are some of our suggestions for romantic breaks across the county.
One sure way to set the atmosphere is by booking a traditional cottage complete with thatched rooves and log burners, perfect for duvet days and catching up with each other after a busy start to the year.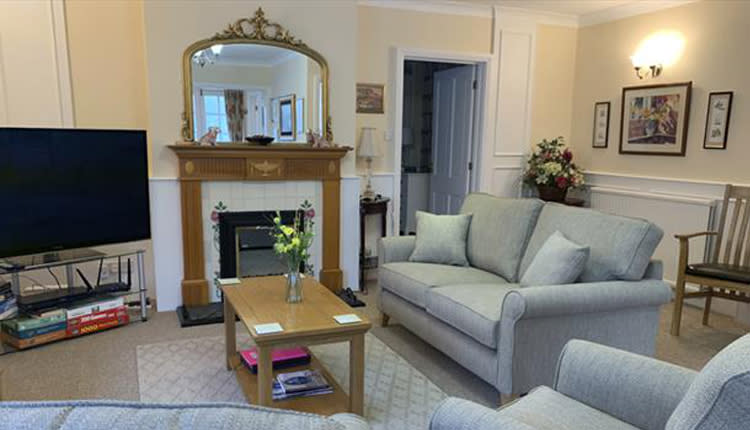 Image: Cherry Tree at Littlecourt Cottages
One option is Cherry Tree at Littlecourt Cottages in Sidmouth. One of five cottages that form part of a regency era house built for the Duke and Duchess of St Albans, Cherry Tree combines the all the mod-cons alongside the original charm of the buildings and is just a short walk from Sidmouth seafront. As a cosy one bed cottage with parking for one car and a range of facilities including a spacious lounge, a 52 inch Smart TV and free WiFi, so you can choose to spend all your time indoors or go out exploring and not miss an episode of whatever series you're currently bingeing.
If you're not sure where you want to stay for your romantic break, just that you want to stay in a comfortably furnished, well equipped cottage, then take a look at the properties on offer with Luxury Coastal. Cosy cottages, chic apartments and romantic lodges are all part of the portfolio with sea views and proximity to the coast being top of the list. The team are happy to work with you to find the perfect property for you and help you plan a memorable break, it's perfect for those of you travelling from further afield who aren't as familiar with the neighbourhood.
Image: Luxury Coastal
Alternatively, if you don't want to worry about cooking and tidying up after yourselves, there are several romantic hotels to choose from. For somewhere atmospheric with incredible spa facilities, book a stay at Boringdon Hall Hotel and Spa near Plymouth. This 5* luxury manor house was built during the Elizabethan era and still features stone towers, arrow slit windows and historic brickwork providing a dramatic atmosphere for your break. With lavish four poster suites and one of the best restaurants in the region, not to mention the couple's treatments at the spa, this is a magical place for a romantic getaway.
Another luxury hotel near Salcombe is the Thurlestone Hotel. With an award winning restaurant, badminton, tennis and squash courts, heated swimming pools, spa facilities and its own golf course, there are plenty of ways to relax and enjoy each other's company here. Most of the rooms at the Thurlestone have sea views and are beautifully designed, providing a great location for a couple's retreat.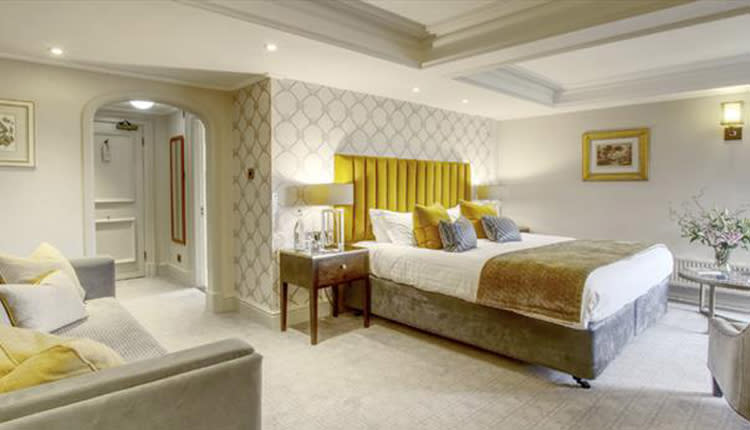 Image: Thurlestone Hotel
If you're someone who likes to wine and dine your partner, Gidleigh Park is a great choice for your romantic break. Famed for being a culinary heaven, Gidleigh Park is set in a Tudor style country house on the edge of the Dartmoor National Park where you can embark on gentle strolls together and enjoy the first signs of spring. The bluebell woods in the grounds is quite spectacular at that time of year and you can take advantage of the beautiful surroundings with a gourmet meal and one of the many incredible wines on offer in the restaurant.
For something a little more unique, head to Okehampton, where you can enjoy the ultimate combination of luxury and wilderness at Wolf Wood Treehouses. Located within a secluded 13 acre woodland, each treehouse is accessed via a rope bridge and are decorated to reflect the rustic feel of the area. Offering the perfect romantic break, each one has their own private deck where you can enjoy spectacular treetop view, and a bath where you can lie back in the tub, gazing up at the stars. Inside, you'll find woodburners, comfortable furniture and a well equipped kitchen, as well as king sized beds for the ultimate comfort.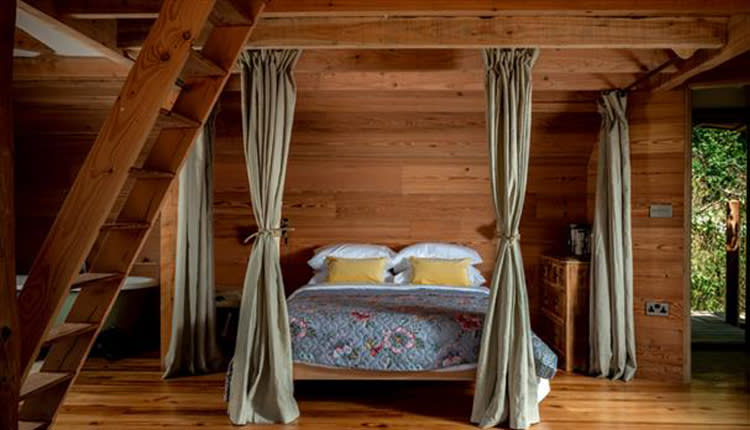 Image: Wolfwood Treehouse
Inspired to visit Devon for a romantic break? Here are some more suggestions for you.