A combination of cherished childhood memories sailing on the River Dart inspired us to dream up River Dart Hideaway, an exclusive habitat of individual holiday Hideaways allowing us to share this stunning spot with others, while caring for the landscape we hold close to our hearts.
As the second generation of an established, Devon-based family holiday company, operating successfully for over 40 years, we have a clear vision for the future and this exciting next step of launching these luxury Hideaways feels like a natural one. Our roles both as responsible custodians of this stunning landscape and of parents, has meant that both conservation and preservation lie at the heart of River Dart Hideaway, sustaining this incredible landscape for generations to enjoy.
Nestled away in a quiet corner of the idyllic village of Galmpton, River Dart Hideaway maintains all the countryside charm while being a stone's throw away from the area's most sought-after towns and villages. Burrowed between the English Riviera and the South Hams, the Hideaways are within easy reach of Brixham, Torquay, Totnes, Dartmouth, Kingsbridge, and Salcombe, to name a few. If you manage to tear your eyes away from the staggering views and peaceful ambience for long enough to venture outside our tree-lined grounds, you will find winding villages and historic towns at every turn.
So where did we start? The Hideaways themselves were crafted here in the UK from a sustainably sourced red cedar, each designed to reduce energy and heat loss. The sedum roofs not only look amazing but are working really hard to keep our local wildlife happy, planted with native species for bats, birds, butterflies and insects to enjoy! The same is true of our beautiful wildflowers, planted at the entrance of each Hideaway, boasting over 32 varieties they also provide a real burst of colour from May- September.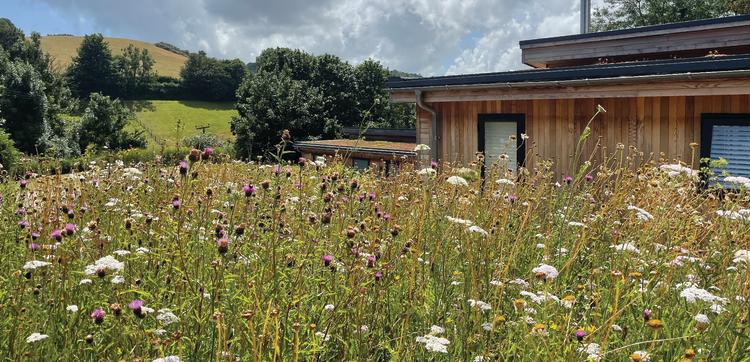 As a family, we all got involved with National Tree Planting Week back in 2021 and it's great to see these growing and blending in with the area beautifully. Over 800 metres of wildlife corridor has also been created with native species (such as hazel, hawthorn and oak) to act as navigational landmarks and provide protection from predators. The Hideaways floor-to-ceiling windows and incredible outdoor porch area mean that entrenching yourself in nature and spotting the surrounding wildlife is all too enjoyable.
Installing the ground source heat pump wasn't quite as much fun, but a real necessity for our overall vision. This incredible bit of machinery provides each of the five Hideaways with 100% of their heating and hot water, in a clean way with no carbon emissions. Another vital step in our efforts is to ensure this development is both sustainable and environmentally sensitive. Finding ways to reduce waste and encourage local biodiversity at every stage was incredibly important to us; we took delight in researching new and innovative ways to ensure the Hideaway development was enjoyable for all - guests and wildlife alike.
Supporting local businesses is also hugely important as part of our overall ethos, ensuring that our guests really add value to the local area. Choosing local artwork to hang in the Hideaways, from Becky Bettesworth (South Devon), Paul Barclay and Bert & Buoy (both Dartmouth-based), was certainly one of the more enjoyable tasks.
After much hard work (understatement!) getting the Hideaways completed, online and bookable, we welcomed our first guests in February half term this year. The feedback was overwhelmingly positive and was (and continues to be) an immensely proud moment.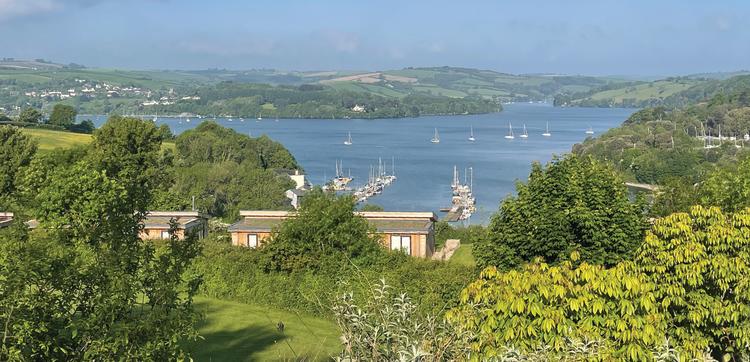 We are proud to contribute in our own small way to Devon's overall sustainability and eco-lead focus. Awards such as the 'Visit Devon Ethical, Responsible & Sustainable Tourism Awards' help to grow the public interest for projects like our own and encourage local businesses to strive to make a positive impact on the area. We are proud to be part of an area so determined to preserve and protect the wonderful nature we are surrounded by and can't wait for future guests to experience it all!
Luxury Holiday Hideaways with spectacular river views in Galmpton. River Dart Hideaway is a development of luxury holiday Hideaways in South Devon, available to book for short breaks and longer holidays. Nestled in a quiet corner of the countryside, its south westerly facing aspect offers unrivalled…