For some of us there is nothing more relaxing than going away for a few days, sitting down and relaxing by a pool or with a good book. For others, we need something more active to blow off steam and relieve the stress of everyday life and if you are one of those people, here are some of our suggestions for an active break in Devon.
Watersports
If you're someone who wants to enjoy the rougher waves that come with the autumn weather, Devon is an excellent choice of destination. North Devon actually forms part of the UK's first surf reserve, so staying in places like Croyde, Woolacombe and surrounding areas will give you access to the most popular surfing beaches in the county.
Croyde in particular is a haven for surfers, so we recommend staying in the village, especially if you want to be close to the beach. Holidays in Croyde offer self-catering options for families or groups and even have some pet friendly properties too!
Similarly, Croyde Bay Resort is hidden behind the sand dunes on the beach and is just a few minutes from the trendy surf shops in the village where you can hire or buy everything you need to get out on the waves. This resort has a couple of different accommodation options, including lodges, cottages and a hotel, all of which give you private access to the beach and a host of onsite facilities available. Alternatively, Ruda Holiday Park, a Parkdean site, is also close to the beach at Croyde and has options to suit every traveller. Whether you're visiting with the kids or not, you can take advantage of the range of facilities and entertainment onsite, which even includes surf lessons!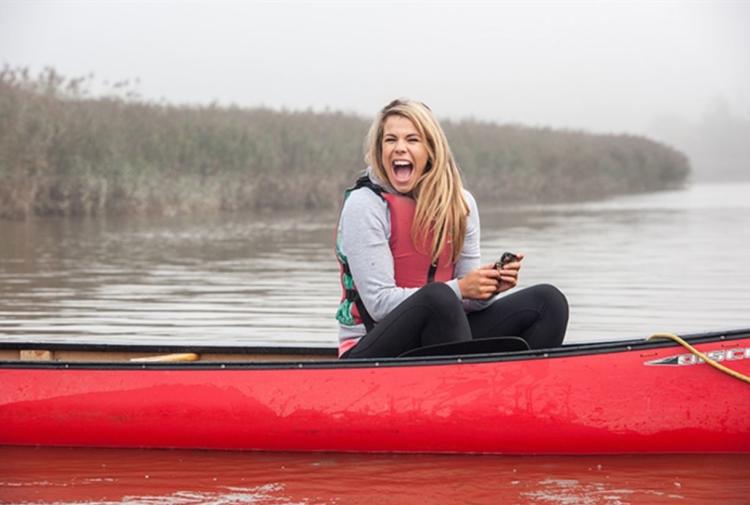 Image: Canoe Tamar
Not quite ready to get out on the ocean but want to enjoy being on the water, head to the other end of the county for a session or two with Canoe Tamar. The canoe safaris offer a relaxing way to enjoy the stunning scenery. The trips are instructor-led and are suitable even for absolute beginners – so everyone can have a go!
There are loads of incredible places to stay in this part of Devon, including the Horn of Plenty Country House Hotel which is located in the Tamar Valley and isn't far from the Dartmoor National Park where you can enjoy even more activities! This luxurious Georgian manor has lovely views out towards the moors and is a peaceful and quiet place to rest your hand, so is ideal for those who want the best of both worlds.
Or why not really immerse yourself in the great outdoors with a spot of camping? The Tavistock Camping and Caravanning Club site is close by and even features ready camp tents, which are pre pitched and come with a few home comforts, so you don't even need your own! There are also glamping options in the area, Dartmoor Glamping Shepherd's Hut and Bell Tents are located on Dartmoor and are close to the Tamar, so you can easily enjoy water sports on the river, as well as the range of things to do in the National Park.
While we're talking watersports, you can also find plenty of opportunities for paddle boarding on the River Dart and jet skis, boating and surfing around the Jurassic Coast and English Riviera. Or if you're someone who wants to enjoy watersports but aren't quite confident enough to head out onto the ocean, you can book sessions at the North Devon Wake Park. Located in Bideford, close to the Surf Reserve, you can enjoy everything from wakeboarding, paddleboarding, open water swimming, ringo and more.
Hiking, climbing and orienteering
We've already mentioned Dartmoor in passing but did you know that it is just one of two National Parks in Devon and both of them offer a range of activities from hiking, mountain biking, orienteering, abseiling and more! In Dartmoor, you can also enjoy the traditional activity of letterboxing, which is like a little treasure hunt! 
Whether you're on Exmoor or Dartmoor, there are lots of opportunities for an active break and plenty of places who are happy for you to stay with all your equipment in tow. Bovey Castle is a good option for anyone who wants to do a bit of relaxing in between your adventures. The hotel offers luxury accommodation, a spa and even an 18 hole championship golf course! Another option is the Manor and Ashbury Resorts who are a sport and craft complex with unrivalled indoor and outdoor facilities and are experts in creating the perfect active holiday.
For those of you exploring the delights of Exmoor, Devon Farms have a host of properties across the county, including some near the National Park where you can enjoy the privacy of your own rented farm house cottage or live like a local by staying on a working farm. Or if you would rather Woodlands House is near Ilfracombe and is well placed for giving you easy access to all the activities that Exmoor has to offer.
If rock climbing isn't your bag, what about tree climbing? Located in the Tamar Valley are Tree Surfers where you can challenge yourself with Tarzan swings, zip lines and more all at the top of the trees. The site also offers archery and mountain biking, if you would rather keep your feet on the ground!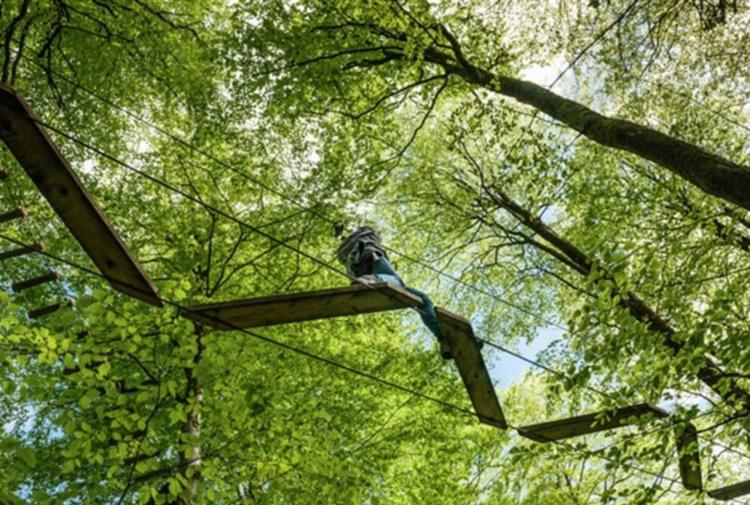 Image: Tree Surfers
Other adventures and activities
The fun doesn't end with watersports and tree climbing, there are a host of other things you can get involved with while in Devon to blow off some steam. In Ottery St Mary you'll find the Devon Activity Centre who pride themselves on being experts at delivering fun and offer a range of outdoor activities from go karting to paintball and even shooting! Whether you want to burn off some energy, take out some frustration or bond with your team mates, there is plenty to do here.
If you're keen to stay nearby, you can enjoy the hospitality along the Jurassic Coast and throughout East Devon where you can find hotels, B&Bs, cottages and just about everything else you can think of! Higher Wiscombe, a collection of converted barns within a picturesque valley is a great option. Not only are they designed with sustainability in mind, but they are also dog friendly and well placed for exploring the East Devon Way, the Jurassic Coast and the AONB. Nearby is also the Grange and the Deer Den, set on a private farm with 260 acres to explore as well as its own heated pool, hot tubs and private gardens and orchard. These properties are also pet friendly if you want to bring them with you!
Another option for an active break is axe throwing and if that sounds like your idea of fun, make sure to check out the Celtic Tossers in Exeter. Their location makes it easy to combine a city break with an activity holiday and they are happy to cater for groups so are a good option for a team building trip or a family day out.
Of course, being in Exeter means there are plenty of places to stay, whether you're planning a weekend or something longer. The Devon Hotel is on the outskirts of the city and despite its modern offerings, still retains much of its original Georgian charm or if you want to be more central, Townhouse Exeter is a contemporary guesthouse with comfort in mind. There aren't many places offering Hypnos beds, Finer than Down duvets and an incredible breakfast hamper to wake you up of a morning! Exeter Quay is also a good place for watersports, so either of these properties would provide a great base for your adventures!
In North Devon, Keypitts Offroad Adventure offers everything from quad biking to Land Rover experiences. Again, there are a host of places in and around the Ilfracombe area which also offer activities, including Golden Coast Leisure Park, an action packed park which offers something for everyone as well as a range of accommodation options!
Ready to plan your active break in Devon? You can find more things to do and places to stay below.
Whatever you're looking for, there are a host of attractions and activities waiting for you in Devon.