Spring is here which means it's the perfect time for planning ahead to your summer getaways. This summer, why not book a trip to the seaside? In Devon, there are a huge number of incredible seaside resorts all over the county offering everything from cute cottages, dog friendly apartments, luxury hotels and holiday parks with a whole host of onsite facilities.
To give you an idea of what is on offer, here's some of the region's best loved seaside resorts.
English Riviera
The English Riviera has been one of the UK's most popular seaside resorts since Queen Victoria's time. Named for the exotic palm trees and microclimate, it covers the towns of Torquay, Paignton and Brixham, as well as the villages in between. With harbours and a host of attractions, it is a wonderful place to spend your holidays.
One option in Brixham is South Bay Holiday Park. Set above the famous harbour, this lively park is perfect for families and has a range of activities onsite for you to enjoy alongside the various attractions you can find in this region.
For those of you who love your privacy, stay at Riviera Apartments. Located in Teignmouth, just along the coast from Torquay, these apartments have spectacular views of the coast and put you within easy reach of both the English Riviera and the wider South Devon area. With chic, contemporary interiors, each apartment is open plan and the floor-to-ceiling windows give you an all-access view of the seafront.
If you're on the hunt for somewhere with all the facilities of a holiday park but all the convenience of a hotel, check out the TLH Leisure Resort complex. With 4 hotels and a series of self-catering apartments just 400 yards from the sea, the site has just about everything you can think of just a stone's throw from your room, including year round entertainment!
South Devon
Easily accessible from the English Riviera is the wider South Devon area, this region of Devon features some of the most picturesque areas like Salcombe, Dartmouth and Kingsbridge. Full of glorious countryside and beautiful beaches, you can easily pretend you are somewhere Mediterranean when visiting here.  This region is also home to Britain's Ocean City, Plymouth
One self-catering option in this region is Ocean Reach Holiday Homes which are located on the National Trust's Bolberry Down. Each home has sea views and are set within an Area of Outstanding Natural Beauty and are within easy reach of the South West Coast Path. It's a real home from home and all the properties are pet friendly, so your fur babies can also join you on your break.
Or near the city of Plymouth is Bovisand Lodge Holiday Park where there are spectacular views of the Breakwater. It is a unique 4-star gold award beachside holiday park within a wooded valley which leads down to a sandy beach. It is alongside the South West Coast Path and there are a host of facilities available for guests to use all year around.

Image: Bovisand Lodge Holiday Park
Alternatively, you can stay right on the beach by booking a stay at Welcome Family Holiday in Dawlish Warren. The award winning club is just a short walk from the Blue Flag beach and the town's nature reserve, as well as the centre where you can find the famous black swans. The park features a host of facilities, including kid's entertainment, performances, activities, crafts and leisure facilities, so you won't even need to leave the site if you don't want to.
East Devon
Perhaps the most geologically fascinating place in the county is East Devon where you'll find the Jurassic Coast which is a UNESCO World Heritage site. Like the other seaside resorts across Devon, East Devon has a lovely mix of coast and country and brings families back every year because of the quality of its attractions and activities.
For a holiday park with a view and private access to the beach, check out Ladram Bay near Budleigh Salterton. The park has a host of fun activities including a swimming pool complex, climbing wall and adventure golf. There are also range of accommodation options to choose from, so you can pick something that best suits your budget.

Image: Ladram Bay
There are some truly beautiful towns across the East Devon coast including the town of Sidmouth which, like Torquay, gained popularity in the Georgian and Victorian eras. It was even the home of Queen Victoria long before she was a contender for the throne! It's a great place to visit if you want to be close to the sea as there are several hotels right on the sea front including the Royal York and Faulkner which can be found on the Esplanade with unrivalled views across the beach and out into the ocean.
The Victoria Hotel is another option here, being based on a hill overlooking the coast, this hotel has incredible views of the bay and is a haven for those looking for a luxury break. Their Devonshire cream teas are particularly popular and what could be better than enjoying a Devon delicacy while looking out over one of its best loved seaside resorts?
North Devon
East Devon's Jurassic Coastline isn't the only world famous coast in Devon. The north of the county is where you'll find the UK's first surf reserve, named so because of the perfect surfing conditions that can be found here. It is also where you'll find the beach that is consistently voted as Britain's Best Beach – which is hardly surprising considering the majority of the beaches in this part of Devon fall under the North Devon AONB. Like the areas of South Devon and the English Rivera. North Devon has long been a popular spot for anyone looking for a seaside resort, particularly at places like Woolacombe and Combe Martin.
Speaking of which, Combe Martin Beach Holiday Park is one of the region's more peaceful holiday parks. There are beautiful sea views from across the site and has its own private access to Newberry Beach, where you can play in the sea, visit the village of Combe Martin or spend time relaxing in the sun.
Woolacombe similarly is full of fabulous holiday parks and places to stay where you can take advantage of the beach. Golden Coast Leisure Park is one such park that is right next to the beach, the multi award winning site has a superb selection of accommodation options and a host of all weather activities, most of which are free for you to enjoy.
It isn't just people that love a trip to the beach – dogs do too! For pet friendly accommodation check out Croyde bay Holiday Resort. Nestled behind the sand dunes at Croyde Beach and just moments away from the village's trendy surfing shops and tutors, the site features lodges, cottages and the village's only hotel. Croyde is one of the area's best places for catching the sunset, so is a must for those that appreciate the beauty of the coast at the start and end of the day.  The resort features top quality activities and facilities that are free for guests, as well as its own surf school and several dog friendly options, ideal for anyone travelling with pups!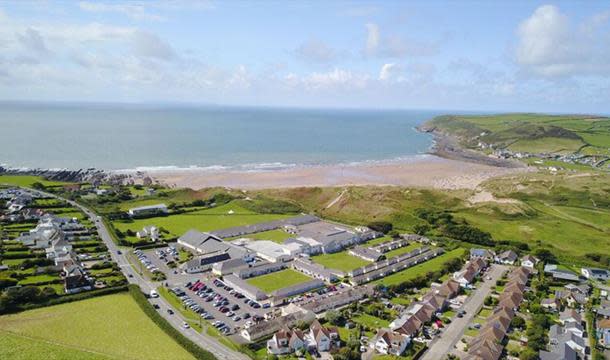 Image: Croyde Bay Holiday Resort
Of course, these are just a few of the options for seaside resorts to visit this summer – you can find more places to stay below.
Wherever you choose to base yourself on your Devon getaway you can guarantee some spectacular sights. Whether you want something coastal with an excellent view of the sea or somewhere more rural with nothing but sprawling fields outside your window, there is something for you.