One thing we love about autumn is the various flavours that are prominent at this time of year. From cinnamon filled apple pies to hearty stews and soups, there is nothing better than the taste of autumn and with its natural larder, Devon is a great place to experience all of the season's favourite dishes.
Want to plan a foodie trip or just look up the menus in advance? Here are some of the places you can enjoy the taste of autumn this season.
As you might expect from somewhere so rich in natural resources, there are award winning eateries all over, many of which are located within the region's popular hotels like The White Room, The Jubilee Restaurant and the Sun Lounge in Sidmouth's Victoria Hotel. The hotel is known for its fine dining and has several options, giving you everything from informal dining to special occasions. With a la carte menus and incredible chefs, this is a great place to enjoy a traditional Devon cream tea or some of the seasonal dishes straight from the hotel's kitchen garden. You also have the delightful views across Sidmouth's sea front as a backdrop to your meal!
Somewhere else with incredible views is the restaurant at the Langstone Cliff Hotel. With 19 acres of woodland, sea views and views over the Exe Estuary, it's a lovely place to enjoy their menus which changes daily. The Lincoln Restaurant offers a selection of seasonal dishes, as well as a very popular Sunday carvery. Lying on the banks of the Teign Estuary, you'll find the Cockhaven Arms. With locally sourced food and drink and menus that cater for everyone, this friendly and traditional restaurant and bar also offers locally made West Country ales, including Otter Brewery, Otter Ale and Otter Best, as well as Sandford Orchard's Devon Red Cider.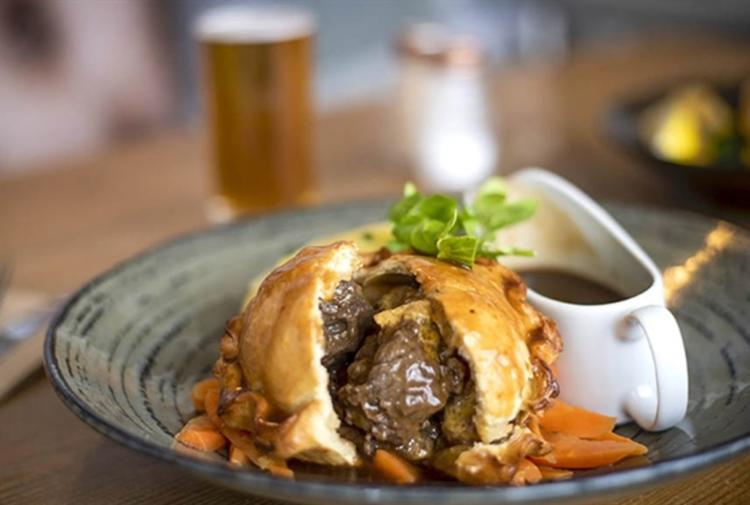 Image: Cockhaven Arms
Looking for something continental? Bistrot Pierre have branches in both Torquay and Plymouth. The Torquay restaurant is conveniently located opposite the sea front, while the Plymouth site is within the historic Royal William Yard. Both offer amazing French classics and cover breakfast, lunch and dinner with seasonal menus – if you've missed going abroad this year, this is a good option.
It isn't just the region's hotels that have incredible eateries, some of Devon's top attractions do too! Buckfast Abbey for instance has two amazing places to stop for a bite to eat, the Grange and San Benedetto's. The Grange has a new menu daily, including a popular Sunday Carvery and prides itself on using fresh local ingredients. While you're visiting the Abbey, keep an eye out for the chefs who you can often spot foraging around the grounds for ingredients. Throughout the year you can also enjoy specials that replicate the Feast Day menus enjoyed by the monks that call the abbey home. San Benedetto's on the other hand is a pizzeria offering takeaways and dine in options. With a choice of antipasti, pizzas, garlic bread, wedges and gelato this is a picturesque venue set in a former mill with a working waterwheel.
In Totnes, which is well known for its commitment for sustainability and using locally sourced ingredients, you'll find the Wild Thyme Deli and Kitchen which is part China Blue. With everything on the menu being homemade and changing with the seasons, this is a great spot for enjoying autumnal flavours after a spot of pottery painting. If the weather is warm, you can also enjoy dining al fresco in their secret garden! Another of our favourite attraction eateries is the Refectory Bar at Plymouth Gin. The distillery is the oldest working one in England and so is arguably the best place for a tipple, you can even pick up your own free G&T or miniatures to take home. Just don't forget to visit their brasserie while you're visiting to line your stomachs!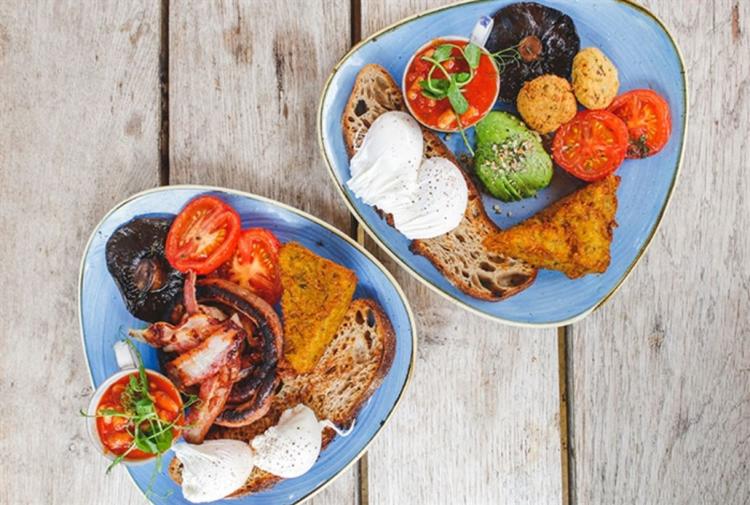 Image: Wild Thyme Deli and Kitchen
For those of you who want familiar, family favourites Brightside have a comforting menu with lots for the little ones and plenty of vegan and gluten free options too. They have branches in Exeter and Honiton, serving something for everyone. Or why not try one of the most unique venues in Devon at the only canal side beer garden in the county. Fully licenced, the Ducks Ditty Bar is a floating café bar with cakes, takeaway snacks and of course, beer, bubbly and more.
Want more food and drink options? You can find restaurants, cafes, bars and more below.