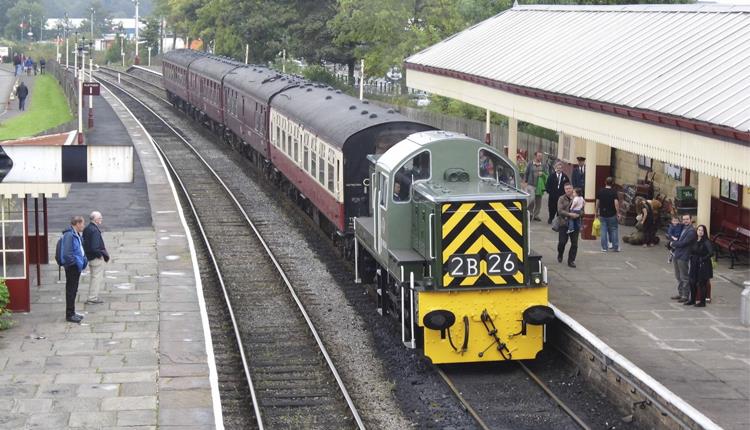 South Devon Railway Diesel Gala
About
Our fleet of 1960s first generation diesels has a chance to get out and stretch their legs at our Diesel Gala this November. The three-day Diesel event will also see two visiting diesel locos in WSR based Class 14 No. 9526 plus another Class 09 from Plymouth Laira depot, and our other new Class 25 diesel arrival. Amongst the home fleet expected to be performing are BR Sulzer Type 2 (Class 25) D7612, BRCW Type 3 'Crompton' (Class 33) D6501, 0-6-0DE shunter (Class 09) D3721 and 'Bubblecar' single railcar W55000.
An intensive service will operate between Buckfastleigh and Totnes Riverside and there will be a bar on every train. BR diesel hydraulic Type 1 (Class 14) D9526 (known as Teddy Bears) will be our visiting locomotive this year from its home on the West Somerset Railway courtesy of our friends at the Diesel Electric Preservation Group. These popular hydraulic locomotives, nicknamed Teddy Bears, were built at Swindon for shunting and branch line freight work, with many being sold to industrial yards. including the NCB and iron ore works, for the later part of their working careers before preservation. This will only be the second visit for one of this class of locomotive to the branch. The locomotive will be in use over all three days of the diesel gala from Friday 2nd November to Sunday 4th November.
BR Sulzer Type 2 (Class 25) D7535 has just joined the home fleet and will be taking part in the gala. The locomotive comes from the Dartmouth Steam Railway and has been exchanged for English Electric Type 3 (Class 37) D6975. D7535 was a visitor to the SDR back in 2014.
Book Tickets
Map & Directions
Dart Bridge Road
,
Buckfastleigh
,
Devon
,
TQ11 0DZ
Opening Times
Sorry, this event has passed