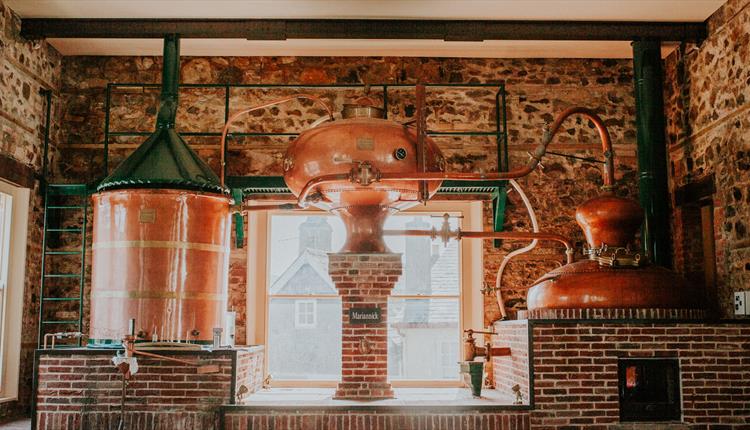 Dartmoor Whisky & Gin Tasting Experience
About
Customers are welcomed to visit the distillery for one of our whisky and gin tasting experiences, available every Saturday at 1pm. Visit Devon's only whisky distillery, hear our story, learn how we make our single malt whisky from start to finish and taste our current expressions, individually aged in Ex-Bourbon, Bordeaux Red Wine and Oloroso Sherry casks. You will also be able to taste our new Dartmoor gin 1890. Take a day out in Devon at the tasting experience.
Pre-bought Vouchers
Please apply your voucher on checkout to redeem the cost of the experience, we CANNOT accept vouchers on the day without a corresponding voucher. We look forward to seeing you on the day.
Dartmoor Whisky Tasting Experience
Upon entering the distillery, you will be welcomed by our founder Greg or one of his team and shown to your table. Laid before you will be a flight of our whisky expressions, but you must hold back, for we will go through a guided tasting together later on…
We begin the session with our brand new entertaining and educational film which showcases the full story of Dartmoor Whisky Distillery, from idea to today. The 30 minute video follows the story of our still, our building renovation, and shows you the various stages of how Dartmoor Whisky is made.
After the video, you will then be shown through a guided tasting of the whisky expressions we have released so far, with a chance to discuss with the other participants and ask questions to members of our team. You will try our three single malt expressions which are all individually aged in Ex-Bourbon, Bordeaux Red Wine and Oloroso Sherry casks. Each whisky expression takes on a unique colour and flavour profile from the cask, which we will explain in more detail during the tasting with you.
Once the tasting is complete, you will then be given £5 off any bottle that you buy on the day to take home a souvenir of your visit to share with friends and loved ones (or not!)
Please note that for people who don't wish to try our whisky or are designated drivers, the ticket price includes a soft drink. Please make yourself known to the team on arrival.
The tasting experience includes;
30 minute video presentation where you will;
Learn the craft of whisky distillation and understand how whisky is made
Hear about the history of Dartmoor Whisky Distillery and the story of our magnificent antique copper still
Discover the heritage of Dartmoor National Park and the various qualities that the natural geology brings to the flavour and quality of our whisky
Discover different barrel ageing techniques and the effect on flavour
Feel the warmth of the roaring still in action (when distilling)
Taste three single malt whisky expressions in a guided tasting
Have the opportunity to ask questions to our team
Share tasting notes and thoughts with other visitors
£5 discount on any 70cl bottle bought on the day
Book Tickets
Guide Prices
The Dartmoor Whisky Tasting Experience costs just £15 per person and includes a 50ml measure of the three core expressions, and the new Dartmoor Gin 1890.
Our core whisky expressions are available in 70cl bottles, from £59.50 including delivery.
Our Dartmoor Gin 1890 is available for £42.50 including delivery.
The Dartmoor Whisky Discovery Set is available for £29.50 including delivery.
Map & Directions
Dartmoor Whisky Distillery
,
Old Town Hall
,
Bovey Tracey
,
Devon
,
TQ13 9EG
Opening Times
Season

(9 Apr 2022 - 27 Aug 2022)

Day
Times
Saturday

13:00

- 15:00