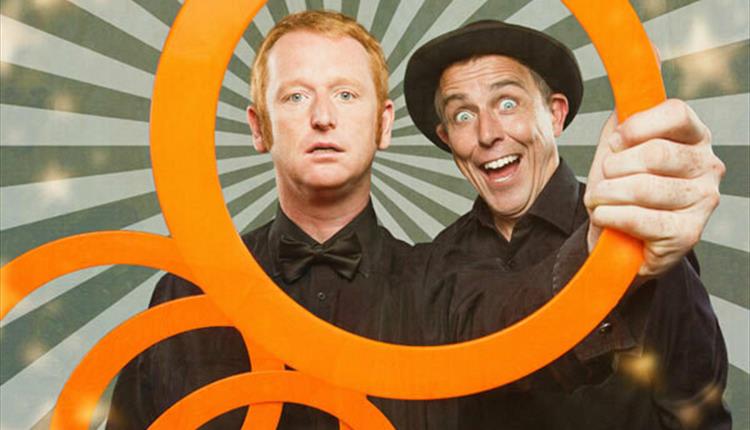 About
A hilarious, highly-skilled outdoor circus show for all of the family.

Ladies and gentlemen…..we are proud to present the Great Phil-dini, champion juggler, master of manipulation and dexterity, a legend of the circus world. Unfortunately, we must also announce that will be accompanied by his hapless stage-hand Horace, whose eagerness to entertain outshines his talent.

The Great Phil-dini has performed his spectacular solo show in the grandest of venues all over the world, from Venice to Vegas, whilst Horace has carried his bags. After much badgering he reluctantly agrees to allow Horace some of the limelight, which he may later regret. Horace's circus skills are somewhat limited so it will take all of Phil-dinis talent and patience to train him up ready for the big show.

Expect spectacularly high unicycling, breath-taking ladder balancing, juggling and a touch of magic, all interwoven with physical comedy and mayhem.

THE PERFORMERS:
Phil Blackmore, star of "Britain's Got Talent", teams up with Covent Garden Jester Of The Year, Rupert Elford, in this all new Circus Berzercus double-act from Devon.

Phil is one of the UK's top jugglers and variety entertainers. Like his character, the Great Phil-tini, he has performed all over the world, from Monte Carlo and Amsterdam to Bahrain, Singapore and the U.S.A….and on "Britain's Got Talent" performing live to 12 million people!

Rupert, who plays Horace, trained at Circomedia, one of Britain's leading circus schools and has performed professionally for over twenty years. He has a talent for looking surprised, washes regularly behind his ears and has his own teeth.

SUITABLE FOR: The whole Family! (Children under 18 months FREE)

DURATION: Approx 50 mins.
WHERE: Undercover, outside The Soapbox Children's Theatre, Devonport Park (Corner of Milne Place & Exmouth Rd) PL1 4QH

PARKING: Free roadside parking available close by.

SEATING: Undercover seating will be provided. You may wish to bring cushions for extra comfort.

WEATHER: It's Devon, it's going to rain at some point! In most cases performances will go ahead come rain or shine. However, if the theatre management decide it is not safe to go ahead or the MET Office issues a severe weather warning for the area, you will be offered a choice of a full refund, gift voucher or booking transfer. (Please see full terms and conditions for more details).
Book Tickets
Map & Directions
The Soapbox Childrens Theatre
,
Devonport Park
,
Corner of Milne Place & Exmouth Rd
,
Plymouth
,
Devon
,
PL1 4QH
Opening Times
Sorry, this event has passed